Thomas in the pages of TWS. Photo: King
Thomas with Grant in the backyard bowl. Photo: @jt_lushbag
In the light of the great past masters of our kind, none so embodied the spirit of the craft quite like Thomas Taylor. In our lifetime of friendship and hell raising, I've yet to come across anyone like him. From the bygone era from which he forged and came, Thomas lived and practiced skateboarding in the old ways. It was tough, fearless, hellbent, debaucherous and lawless—all underscored by a distinctive "Fuck Off" attitude that remains today as a lasting hallmark of Southern skateboarding. Though adaptive and new in certain modes and conduct, Thomas kept well preserved the rites and rituals established by him and his forbearers—codes and wisdoms he made available to those certain young souls so willing and qualified to receive them.
Against the backdrop of inner-city Atlanta in the early 90s, I was one such recipient endowed by Thomas' trust, time and edification. Given the keys to Stratosphere at age 15, the shop became my altar of worship and practice. In time, it would unlock a career in skateboarding that would become my life's work far surpassing anything I could have ever imagined possible—allowing me to travel the world alongside modern greats while becoming a fluent practitioner of the trade in my own unique capacities.
Yet, I was hardly alone. Thomas' legacy of gold-hearted guidance and support in the service of young skateboarders in Atlanta would continue as he nurtured pro careers, refined the techniques of master builders and inspired filmers, photographers, musicians and artists along the way in his vast and colorful knowledge of culture and coolness. Not the least of which was Grant—a hellspawned son of his own who's absolute mastery in skateboarding stands without words.
In solemn reflection, I trace my very soul and spirit to his and will continue to live in his light beyond the darkness of the grave until my time too comes—by the sword, so help me.—Cullen Poythress
---
For more skateboarding related news, features and videos via the following link: https://skateboarding.transworld.net/
---
OBITUARY from Dignity Memorial
Thomas Fielding Taylor
AUGUST 24, 1966 – FEBRUARY 22, 2023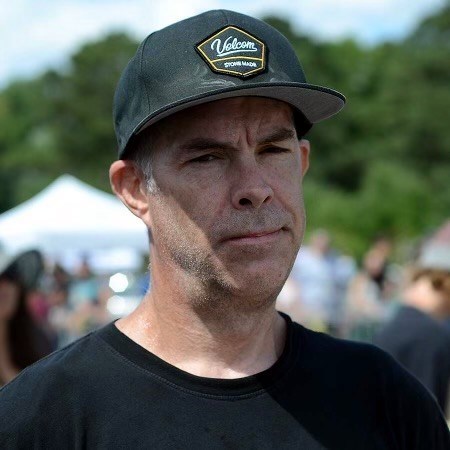 Thomas F. Taylor, Legendary Skateboarder, Entrepreneur, and beloved father, resident of Inman Park and Little Five Points, passed away in Atlanta on February 22, 2023. Thomas, age 56, is survived by his children, Grant M. Taylor (Lilly Morgan Taylor) , McKenzie E. Taylor and Sarah C. Taylor; his grandchildren, Colette and Jesse Taylor; his mother, Virginia Smith Taylor; his sister, Anne Taylor Hendry (Steve Hendry); his niece, Isabella V. Hendry (Tim Burke); his uncle, Allen C. Smith (Becky Rhodes Smith); cousins, and numerous friends and supporters. He was predeceased by his father, Thomas Edwin Taylor.
Thomas was a native Atlantan, born on August 24, 1966. At the age of 18, he founded and operated Atlanta's first skater-owned skateboard shop, Stratosphere, in Morningside, which soon moved to Little Five Points. An avid and talented skateboarder since age 8, Thomas was an important influence on the development of Atlanta's skateboarding scene. In 1996, during the run-up to the Atlanta Games, the International Olympic Committee staged the training for the closing ceremony's skate performance on Thomas' homemade skate ramp. In 2015, he produced a documentary, Lost in Transition, narrating the Southern skateboarding tradition that was founded by him and his friends, particularly their DIY spirit of do it yourself- let's ride. Thomas developed Stratosphere into more than a skateboard shop – it is a community touchstone and gathering place, supporting and hosting numerous skateboard contests, charity fundraisers, and exclusive product introductions. He also sponsored a Stratosphere Skateboard Team, which often served as an incubator for young skating talent in Atlanta. Thomas was a proud supporter of Little Five Points businesses and community, as well as helping to found the Sk8ter Aid fundraiser to support pediatric brain cancer treatment. Thomas was also a talented construction manager, designing and constructing many public and private skate ramps, including advising The City of Atlanta's Parks and Recreation Department in the construction of the Old Fourth Ward Skatepark on the Eastside Beltline.
The most important part of Thomas' life was his family. His mother and his three children with his former wife, Rachael Tayor, were the light of his life. He was known for his dynamic personality, generosity to his friends, and his open hospitality. Thomas will be deeply missed by his beloved family and community of friends
Visitation for friends and family will be held at H.M. Patterson & Sons – Oglethorpe Hill Chapel, on Sunday, February 26, 2023, from 4-6 PM.
There will be a private family funeral. A memorial to celebrate Thomas' life will be announced shortly.
---
We, at Board Retailers Association, mourn the loss of this remarkable man and skate shop owner.
We encourage all of our Retail Members to be encouraged by his example and accomplishments.
Rest in Peace, Legend.
Doug Works, Executive Director of Board Retailers Association
---