ESPN Images
Considered the godfather of adaptive skateboarding, Jon Comer's influence on skateboarding transcended boundaries and pushed the awareness of adaptive skating to the forefront.
Jon Comer, the first pro skateboarder with a prosthetic leg, died on Thursday, Dec. 5 at age 43. Comer turned pro in the mid-1990s and won fans around the world with his vert and concrete skatepark videos, including a full part in the 1999 Powell video 'Magic,' inspiring a generation of athletes with disabilities to take up skateboarding and other action sports.
"It goes without saying: Jon Comer was the godfather of adaptive skateboarding," says Daniel Gale, the sport organizer for adaptive sports at X Games including the Adaptive Skateboard Park event that debuted as a medal event at X Games Minneapolis 2019. "A lot of skaters seeing his videos and photos in magazines in the '90s didn't even immediately notice the prosthetic leg. The stuff that he was doing on vert ramps on a prosthetic leg when nobody else was, was as good as just about any other pro skateboarder at the time."
Comer injured his right foot in a car accident when he was four years old, and had it amputated several years later, at age 7. It didn't stop him from taking up skateboarding at age 12. The 2004 documentary 'Never Been Done: The Jon Comer Story,' directed by Matthew J. Powers, chronicles his life and skateboarding career and won awards that year at the San Diego Film Festival, Houston International Film Festival, Tiburon International Film Festival, and the X-Dance Film Festival. Comer was humble about his accomplishments when interviewed for the film: "I don't know if I think what I've done in my life is amazing, because to me it's just my life," he said at the time. "I'm not like trying to impress anybody. I'm just skating and having fun."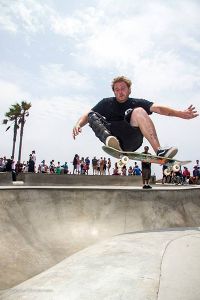 Gale, who co-founded Adaptive Action Sports with snowboarder Amy Purdy, says Comer is directly responsible for bringing adaptive sports to X Games. Gale and Purdy first met him at the Extremity Games in 2006, and later invited him to skate in a series of demonstration events they organized at X Games Los Angeles between 2008 and 2011 that served as a forerunner for bringing adaptive motocross, snowboard, mono ski, snowmobile, and skateboard events to X Games over the last decade. When Gale got the go-ahead to organize Adaptive Skateboard Park as a medal event in 2019, Comer was the first skater he called with an invitation.
"He was on our roster right up until the day before our first practice on site," Gale says. "We thought he was going to make it and everyone was super bummed when he called and said he wasn't feeling well."
Evan Strong finished 4th at that event and has also competed in Adaptive Snowboarder X at X Games. Strong won Snowboard Cross gold at the 2014 Sochi Paralympics, and says he attributes much of his success to an out-of-the-blue call from Comer when he was a teenager.
"Jon played an integral role for me as I recovered from my accident 15 years ago in Maui after I was hit by a car and my left leg was amputated," Strong says. "Before the accident I was an up-and-coming amateur skateboarder in Hawaii and somehow he heard about my accident. He actually reached out to me while I was still in the hospital just to see if he could help out in any way. I told him, 'Man, I don't know if I'm ever going to skateboard again' and he said, 'Oh, you'll be skating again, guaranteed. It felt like such a far-away concept at the time, and he brought it right to me."
Strong says Comer sent him an advance DVD copy of 'Never Been Done' for his 18th birthday to help drive the point home.
"I turned 18 in the hospital, and getting that DVD helped motivate me to do my physical therapy, find a prosthetist, and heal and recover to get back to doing what I loved so much: the fun of skateboarding," Strong says. "It really propelled me to where I am now, to the X Games, the Paralympics, all of it. In some ways my life and my career as an athlete has really been greater than I'd ever imagined before my accident, and Jon really sent me on that path. I'm eternally grateful to him for it and I definitely feel obligated to pass it on."
Oscar Loreto Jr., who finished 6th at the Minneapolis 2019 Adaptive Skateboard Park event, says he was first inspired to try skateboarding after seeing Comer in an ad in a skateboard magazine.
"It was a sequence of him where he kicks his prosthetic leg off while doing a kickflip, landing back on the board with just his stump and liner," Loreto says. "I thought it was the sickest thing ever. Like, I want to do that!"
Loreto is a regular-footer and skates with a prosthetic on his left leg. Comer was a goofy-footer, skating with a prosthetic on his right leg.
"The first time I met him was in 2006 when Adaptive Action Sports was doing the Vans Warped Tour, and immediately he started helping me out with foot placement, giving me advice about the best prosthetics, the best settings for spring and stiffness," Loreto recalls. "He definitely spread that knowledge, to me and to anyone who wanted followed his lead. Jon was just a compassionate dude who loved skateboarding. He was stoked on anybody who wanted to shred, and always wanted to spread the stoke. Losing him is tragic: I'm gonna miss him a lot. I'm going to celebrate his life in the only way that seems right, by going skateboarding and trying to help inspire some other people to do the same."
For more about the inspirational life of Jon Comer, click on: Jon Comer Documentary Trailer