Don't look now, pundits, but those dire predictions of the collapse of malls are crumbling.
I visited the Garden State Plaza in New Jersey Saturday around noon. It took me about ten minutes to find a parking place.
Once inside, I found the mall packed with shoppers scurrying all throughout. Smiling, laughing, and most importantly, holding bags with their purchases.
There was a line 30 people deep to get into Pandora.
The Shake Shack was packed.
There was no evidence of curbside or BOPIS like in previous months.
The only way a time-traveler would know it wasn't the Saturday before Christmas was the lack of decorations. That's about it.
I even made this LinkedIn live video I was so overwhelmed by the traffic. (Apologies for the wankiness of the video due to wifi.)
That's not to say retailers were dealing with it all equally.
At Nordstrom: fully staffed, friendly help. A sincere desire to greet and meet like before. Several shirts and a new Canali jacket. Check.
At Macy's: though much better stocked than their location I visited in Albany a few weeks ago, there was a clear lack of help and desire to do so. Fitting rooms stacked with clothes, cardboard boxes of merchandise haphazardly left on the floor, and even shipping pallets (!).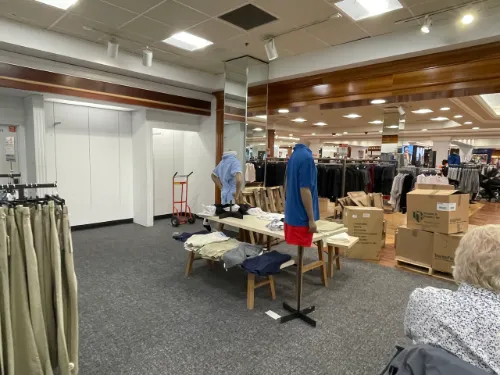 The employees stood behind their plexiglass giving the appearance of being forced to work in prison rather than being delighted they had work and people shopping with them.
The only courtesy I saw was from the shoppers who were congenial and engaging each other.
At Neiman Marcus: no one at all to be seen to help. Didn't they just jettison 4 billion dollars in debt? Wouldn't you think a fresh start would have mirrored Nordstrom? Nope, had to beg someone to ring up a shirt though they did present a full spectrum of product.
All around were shoppers eager to resume their lives yet so many retailers seem unprepared for their return.
Retail Store Tours reports double-digit increases in store/mall traffic at American Dream , SoHo, Hudson Yards , Industry City , Brooklyn, Westfield World Trade Center, The Forum Shops at Caesars yesterday as compared to four weeks ago.
In fact, they see increases over last week. Some stores in SoHo are reducing visitors to the stores and as we see the restrictions lift, the stores will see increased traffic. Stores in Dallas and in Miami are seeing a boost as visitors from Mexico fly in for vaccination and shopping holidays.
Retailers: you've had 15 months to plan for these days. Did you believe the few writers who have had a steady drumbeat of the collapse of physical retail?
Did you funnel so much money into the presumed narrative of the death of malls that you left being brilliant on the basics of customer engagement to die instead?
Shoppers are giving physical retailers a chance to earn our business. I spent several thousand dollars Saturday eager to enjoy shopping.
Listen to the digital natives at your own peril department stores, specialty boutiques, and mom and pops.
Trends affecting today's consumers
After a year we've endured without hugs and family, shoppers are putting the money they saved from not traveling, shopping, and dining and put it back into their homes, hobbies, and loved ones because that's what makes them happy.
Photography stores are harvesting decades of excellent customer service and making the commitment to a select few brands like Leica.
Apparel stores that eschewed discounts as the way to gain new customers are laughing all the way to the bank as shoppers return for exclusive designs from Eileen Fisher.
I could go on with more retail trends and how the'll affect the future of retail, but you get my point. Retailers who have figured it out are harvesting decades of goodwill, employee training, and investments in their own infrastructure.
While the media ignored this amazing, good-news story this weekend – and are probably still searching for the next retail apocalypse story or death of malls feature – we shoppers were buying.
Happily.
See also, Shaking Off the Retail Apocalypse With Hope and Real Data
In Sum
Woe to those retailers moving massive amounts of capital to chase online sales which only convert at 1-2 percent while leaving the one place you can most goose sales – your physical stores – to disappoint.
It's like if Luke Skywalker, at the moment he has to battle Darth Vader with a lightsaber, having instead an app.
We're out there. We're spending. We didn't go anywhere.
Airline travel is already back to pre-pandemic rates.
And no, I'm no Pollyanna, the lowest malls and stores that had problems prior to the pandemic will still face challenges.
And yes, it's hard to get people to work when you stay stuck paying minimum wage. In-N-Out Burger brags they start at $17 an hour and have the sales and customer service to build sales.
What comes first? Your people. They help you build your business.
Stop whining, start hiring, and more importantly, start training – you have the chance at a reset to making the customer the heart of your operation, not the exception.
Don't blow it.
---
---
We are pleased to mention that the Bob Phibbs the Retail Doctor (who has contributed to BRA with outstanding articles like this one and so many others that we have reposted over the past year) recently contributed to BRA monetarily and is now a Supporting Vendor Partner of BRA. We value his relevant retail insight and encourage you to learn more about his offerings by clicking on the following link to his website: www.retaildoc.com
– Doug Works, Executive Director BRA
---
If you are not already a BRA Retail Member, you can easily opt in to either Regular (no cost) or Distinguished ($100/yr.) Membership via this super simple join form