Customer reviews are very influential and can increase your sales more than marketing with a paid ad but can be hard to get. Here's 10 proven tips to get customers to review your business online.
There's nothing shoppers consider buying without asking a friend, reading a review, or searching an app. Since most purchases start online these days, reviews act as a surrogate for a brick and mortar employee who could build trust.
The other day I asked a buddy how his purchase of LED lightbulbs worked out. He replied, "You don't think I would've tried them without first checking the reviews, do you? All 5-star."
A ZenDesk research report noted that 88% of customers have been influenced by an online customer review when making a buying decision.
Yet many retailers and service providers, when I suggest they call or follow-up with their customers, tell me they are afraid they'll get a negative review so they don't do it.
They figure the only people who will write reviews of their business or products will be people who want to share a bad experience.
ZenDesk affirmed this by noting that 95% share bad experiences. But here's the thing…they also noted 87% shared good experiences – that's pretty close.
And more importantly, they also noted that more people have read a positive review (69%) of customer service online than negative reviews (63%.)
And I'm not naive enough to think any reader of this post hasn't looked at an Amazon review before purchasing something – regardless of cost.
When you see 50 five-star reviews of a product, you tend to trust…and I bet you buy it.
So you know product reviews are important, but how do you get them?
Here are 10 simple ways to encourage your customers to write product reviews:
1. Do your homework. Make sure your retail store has a presence on all of the major social sites that shoppers look at to read reviews – or create reviews – of your business. Start with the major one first, Google. Go here and search for your business's name. If you see Is this your business? it means you haven't claimed it, so fix that fast by following their instructions. Beyond Google, consider obvious sites like Facebook, Yelp, and also Bing and Yahoo.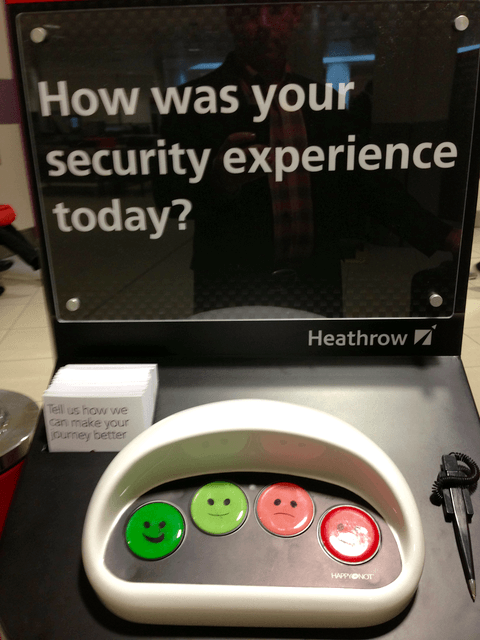 2. Make it easy for them. As I left Heathrow airport customs, they had this simple machine which sought to easily let them know customer feedback. In an email to your customer, you can do the same. Just keep it simple.
3. Reward them. Zappos hands out 100 points or about $10 credit to those who write a review. Offer incentives to gather reviews – especially at the start. Notice I'm not saying to pay for a review. You want an authentic, honest review from people who really purchased and used the product from your store. Consider offering points in your customer loyalty program or entries in a quarterly drawing.
4. Send a follow-up email. Etsy sends a text message or email asking buyers to write a review. They reported to the WSJ that 25% of purchases result in a review as a result.
5. Ask quickly …but not too quickly…after purchase. Those online, post-checkout popups are annoying. Imagine leaving the counter of a store with your purchase and someone jumps in front of you to ask you for a review. Don't do something similar on your website but do send that email the same day.
6. Ask for help. In your email newsletters or on social media, you can add a Help with a Question section to get purchasers to respond to your most popular shopper questions. Highlight these answers on your store's homepage next to the product.
7. Survey them.
Three to five simple questions is easy. Stars as answers are also easy. A blank text box will seem like work, and you won't get any responses.
8. Tell reviewers exactly what you want. If you want longer answers rather than stars, give a 2-point review request worded exactly like this, "Please review your purchase and:
Tell shoppers why you bought the product
Did it do what you wanted and would you shop with us again?"


9. Make it mobile first. Your text and surveys must be responsive so they adapt to different size screens. Designing mobile first makes all the difference in getting customers to respond.
10. Habitually thank every reviewer. Monitoring your reviews once a week might seem anal-retentive, but you need to know what is being said at all times. Make the task a Sunday morning query of review sites. In 5-10 minutes you'll easily be up to date and can thank any and everyone who reviews you with one or two personal sentences that speak to what they wrote. A simple thumbs up won't do here, consider this your time for reputation management.
To read more about customer reviews:
Online Reputation: How to Monitor and Respond to Customer Reviews
In Sum
The more reviews a product or business has, the more trustworthy the reviews for the retailer will be. That in turn gives future customers who first discover your brand online trust you'll have what they need, and give you higher retail sales.
The easiest thing you need to do to get more customer reviews is to simply ask in a timely manner. The more reviews customers make of your products and your business, the more loyalty they will have for you.
That plays big when you're trying to compete with online retailers who use customer ratings and reviews extensively.
---
Although the Retail Doctor is not currently a Supporting Vendor Partner of BRA, we value his relevant retail insight and encourage you to learn more about his offerings on his website: www.retaildoc.com
– Doug Works, Executive Director BRA
---
If you are not yet a BRA Retail Member, you can easily opt in to either Regular (no cost) or Distinguished ($99/yr.) Membership via this super simple join form
---