What does the right-wing online video platform Rumble want from its partnership with skateboarding's premier contest?
Street League Skateboarding (SLS) kicked off its 2023 season at Chicago's Wintrust Arena on April 29. From a competitive perspective, it was another compelling live event. Rayssa Leal, as the phenom is wont to do, came in clutch and secured a come-from-behind victory and her fifth SLS win in a row. In the Men's final, Ryan Decenzo, the 36-year-old grizzled veteran of the game, nearly clinched his first Street League win with a handful of difficult tricks down the course's centrepiece hubba ledge (switch tailslide to switch heelflip out, nollie heelflip noseslide, and front-shove backside nosegrind), but was ultimately edged out in dramatic fashion on the final attempt of the contest by Kelvin Hoefler. Hoefler, who hadn't topped the podium at SLS since 2015, would share after the event that he'd competed and won with a broken wrist and fingers. These are the types of results and storylines that can make competitive skateboarding so exciting to watch.
This event also saw several significant changes to Street League itself. What was once a two-day event featuring a day of prelims followed by another of finals is now compressed into a single day. On the Men's side, the contest format has shifted to a series of five preliminary "knockout rounds," where the winners of each heat move on to the finals to face the reigning SLS Champion, currently Gustavo Ribeiro. Curiously, the Women's event didn't feature "knockout rounds," instead having a pre-seeded final where six skaters were "hand-chosen" to compete.
SLS's marketing materials promoting these format changes claim that there will be open and rotating roster spots throughout the season and "more ways to qualify than ever before." It's not yet clear how that will work. Despite the rosy finish applied, from the outsider's perspective, condensing your event from two days to one, inviting noticeably fewer skaters to compete, having just six skaters in each respective finals (as opposed to the usual eight), and only six skaters total competing on the Women's side per event, indicates an obviously slimmed-down product. "All killer, no filler" is how an SLS promo video describes what would appear to be cost-cutting measures. If Street League was struggling financially, that could explain why the company decided to make arguably the most puzzling decision in its history: partnering with the online video platform Rumble as its exclusive streaming partner.
---
On April 7, Street League uploaded a video to its Instagram account featuring professional skateboarder Paul Rodriguez making a "very special announcement": SLS was moving from its previous home on ESPN (with event replays living on YouTube) to free worldwide live-streaming on Rumble. The deal would turn out to be a surprise to many SLS skaters and employees alike, as Rumble is an explicitly right-wing video-sharing platform that touts itself as being "immune to cancel culture." That means, in essence, that their content moderation policies are laxer than rivals like YouTube. That isn't saying much, given YouTube and other platforms like Twitter, Instagram, and TikTok are also rife with hate, bigotry, and misinformation. However, the critical difference is that Rumble actively courts and promotes those who push that toxic messaging. Allowing it to flourish is integral to its brand positioning.
The company, which received initial funding from odious idealogues like Peter Thiel and J.D. Vance, has signed exclusive deals with other noxious high-profile right-wing personalities like Donald Trump Jr., Dan Bongino, Steven Crowder, and Andrew Tate. The latter, who was recently "detained… on charges of rape, human trafficking, and running an organized crime ring," has said his Rumble deal is worth $9 million. If true, that's a substantial amount by any means and aligns with what The Intelligencer reported back in February about the platform's deepening pockets and widening reach. "According to its latest quarterly public disclosures, Rumble claims 71 million monthly active users (up from 36 million the year prior) and lost $7.8 million on $11 million in revenue, while sitting on $356.7 million of 'cash and cash equivalents.' Its IPO reportedly made the founder, Chris Pavlovski, a billionaire."
There's no available information about how much Street League's deal with Rumble is worth or much that would illuminate SLS's actual financial state. In a glowing Sports Business Journal article from February, Joe Carr, CEO of SLS's parent company Thrill One Sports & Entertainment, said, "All of [Street League's] digital metrics and social media metrics this year hit new highs." While that is a positive trend, it doesn't mean anything tangible monetarily.
According to the same Sports Business Journal piece, "The tour recorded 2022 revenue of over $7 million, roughly doubling year-over-year. Commercial revenue also doubled, thanks in large part to Thrill One's landmark sponsorship with energy drink manufacturer A SHOC, a two-year deal worth $12 million to $15 million that covers SLS and sister properties like Nitro Circus and Nitro Rallycross. Carr expects Street League's revenue to climb another 30% to 40% in 2023 since the renewed global focus allows the league to collect hosting fees from local governments and develop new lines of broadcast and commercial revenue. SLS added local sponsorships with six Brazilian companies for last year's Rio stop." What isn't mentioned there is profit or losses.
The article goes on to describe SLS as "…freshly capitalized thanks to Fiume Capital
1 and Juggernaut Capital Partners last year acquiring Thrill One for $300 million, a deal that Carr said will provide further growth opportunities and allowed the skate league to increase its total prize purse by more than half. And it's making other tweaks to this year's competitions — introducing a winner-takes-all format and condensing tour stops from two days to one — that are resonating with fans and skaters alike."
Usually, when a private equity firm acquires a company it doesn't mean they're "freshly capitalized." It tends to indicate that they're about to be stripped for parts or juiced for everything they can in an effort to maximize revenue for investors before being sold off once more. Also, claiming that the new pared-down contest format is "resonating with fans and skaters alike" months before the event takes place is just a clumsy bit of spin. That haziness aside, while I've been unable to find any public mention from official Street League channels that they've increased their total prize amounts by "more than half," I have been able to confirm that the contest's 1st place prize purse has been doubled from $25,000 to $50,000. While a far cry from Street League's halcyon days of $200,000 first-place purses in the early 2010s, it's a significant increase nonetheless.
Where the money to bump up the purses came from isn't entirely certain. It could be some of their new owners' "fresh capital," as Carr claims. Perhaps shaving a day off of the contest and inviting fewer skateboarders to compete lowered production costs and freed up some money. Or maybe Rumble is to thank. Considering the scaling back of its product and its parent company being acquired by private equity firms, it's not a stretch to imagine SLS had found itself in a dire financial situation, and Rumble's shown it will pump cash into ailing sports entities for streaming opportunities.
One of the platform's other "premier" sports partners is Power Slap, UFC president Dana White's pet project that initially aired on TBS before getting cancelled after one season and myriad scandals (including White being caught on camera slapping his wife a week before the show's debut and the former chairman of the Nevada State Athletic Commission who sanctioned Power Slap saying he regretted his decision due to the extreme head trauma contestants face). The event found an immediate life preserver with Rumble and White has made bold claims about how lucrative that deal is without giving specific numbers.
The looming question remains: were things that desperate at SLS or was their new ownership so hungry for cash-at-all-costs that this is who they're willing to be associated with? I went to Rumble to watch the event replay on the Sunday following Street League's debut on the platform. The video's comment section — which I had to create an account to view, an extra data-gathering step that wasn't necessary on the other Rumble-hosted videos I clicked on — was full of transphobia, anti-vax sentiment, links to other unrelated Rumble videos, and SLS fans lamenting how poor quality the live stream was. The event production itself looked and felt like a standard SLS event, the only difference being that Rumble had placed ads during the commercial break.
The spots, low-budget knock-offs of the old "Mac vs PC" commercials of the early aughts, feature an anthropomorphized "YouTube" and "Rumble," with Stephen "SteveWillDoIt" Deleonardis of the popular NELK Boys YouTube channel playing Rumble. (Deleonardis signed an exclusive deal with Rumble in September following his personal YouTube channel's removal due to community guidelines violations related to the alleged promotion of gambling.) In the commercials, a prudish, whinging "YouTube" decries Deleonardis' "Rumble" for violating its community guidelines, with the latter offering responses throughout like, "What if someone tells the truth but it's labelled as misinformation? What if I want to ask questions and have different opinions on things?… Thankfully we [Rumble] encourage diverse opinions and new ideas." Deleonardis ends one commercial spot with a not-so-subtle nod to himself, saying Rumble is a "place where I can't get cancelled and they celebrate free speech."
These ads are being promoted alongside Street League's other presenting sponsors, including Gel Blasters and Tech Decks — toys for kids. That's a large portion of their audience. So when those kids travel to Rumble to watch Street League, what sort of "diverse opinions," "new ideas," and "truth" that shouldn't be labelled as misinformation do they encounter under the guise of "celebrating free speech?"
After watching the event replay, I scrolled to the "Leaderboard" section of Rumble's homepage. The top two ranked videos were an episode of a QAnon-centric show called X22 Report and an upload with a heinously transphobic title and thumbnail. The top-featured podcast on the homepage was an episode of The Crucible with a guest named "Raging Dissident," otherwise known as Jeremy Mackenzie, an extreme far-right figure and defacto-leader of the alt-right accelerationist group Diagolon. Mackenzie was arrested on a Canada-wide warrant last fall for "assault, pointing a firearm, using a restricted weapon in a careless manner and mischief" and later investigated by the RCMP after allegedly making a public rape threat against the wife of Canada's Conservative Party leader Pierre Pollieve.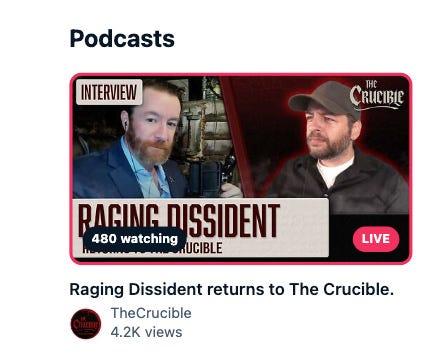 I encountered that in roughly ten seconds on Rumble's homepage. Exposing kids — or anyone — to this garbage would seem irresponsible at best. Whether Street League's brass understands it or not, this is the morass it's inviting its viewers to get stuck in. Is that what Rumble, a platform best known for hosting conspiracy cranks and racist demagogues, wants with SLS? Peanut butter for the mousetrap?
I spoke with Justin Horowitz, a researcher at Media Matters for America, a progressive not-for-profit that monitors conservative misinformation in U.S. media, about Rumble's deal with Streat League and the platform's greater designs at mainstream relevance. "Rumble's really trying to insert itself into every facet of American culture. And that also includes youth-focused communities." He told me. Beyond SLS, Rumble has been signing exclusive deals with "popular Twitch streamers, gaming streamers, people like… DJ Akademiks… and SteveWillDoIt from the NELK Boys," Horowitz continued. The latter two personalities have millions of followers across social media. "[Rumble] started at the bottom and you can definitely tell from the people that they're signing that they're working their way up."
"With SteveWillDoIt on board, Rumble is very quickly becoming the cool place to be for the Gen Z population," the platform's Chairman and CEO Chris Pavlovsk said in a press release announcing Deleonardis' deal. While Horowitz says that it's still hard to determine how effective Rumble's efforts are, "It should sound alarm bells when a website that heavily promotes QAnon videos and these far-right commentators are starting to talk about how they're going to recruit Gen Z."
The platform seems particularly interested in the action sports world, with Rumble also signing an exclusive deal with Nitro Rallycross (NRX), another Thrill One property. In a statement announcing that partnership, Thrill One's CEO Joe Carr said, "We are excited to partner with a growing platform like Rumble to create one truly global destination for action sports fans. Our athletes have over 100 million social followers worldwide and that community will finally have the opportunity to watch every NRX and SLS event, live and free, for the first time."
Does Carr know or care about his audience and the cesspool he's shepherding them to? That Rumble, as Horowitz would tell me, has run "ads on Holocaust denial videos" hosted on their platform, directly profiting off of extreme anti-Semitism. What about the athletes who participate in the events or his employees who are now, at no fault of their own, contributing to the normalization of a brand that platforms unabashed hate, bigotry, and misinformation? I reached out to Street League via their press contact for comment and did not hear back.
However, I did speak to a current SLS employee who asked to remain anonymous so they could talk freely without worry of reprimand. "Street League going to Rumble is bullshit." They told me. "I know that there are business decisions that need to be made, but what they're doing [by partnering with Rumble] is throwing this entire young demographic into the QAnon gauntlet of suggested videos. That's what Rumble's really after. Impressionable young men who maybe didn't have any idols or people they look up to, coming out on the other end [of using Rumble] as misogynist Andrew Tate fans.
"[Rumble] pinpointed a successful property in Street League because they… get a substantial amount of kids who are going to watch it live and for free, and maybe they're going to check out some other videos after with fucking Alex Jones in it."
According to them, the reaction from people on the ground at the event in Chicago was much the same as theirs. Skaters, coaches, SLS employees, and skate industry folk expressed concern, noting the moral dilemma they found themselves in: Do you protest and lose your opportunity to compete (or your job) or stay and have your work used to sportswash a platform with an abhorrent ideological agenda? Besides the Olympics, Street League is the biggest opportunity for exposure and earning potential for many skaters, especially on the women's side, a reality that's left them in a difficult position.
The SLS employee I spoke to told me that after talking with their colleagues at the Chicago event, the prevailing feeling was confusion. "A lot of us were like, so [did we sign with Rumble] because we need money? Is this a good move? A bad move? Is this our fault that we ended up on Rumble, you know?"
It's too early to say what lasting effect this deal will have on Street League as a company, but as the SLS employee would note, the impact is already clear.
"We were watching a replay as it happened up on the screen, and one of the people on the sideline was like, [the sponsor logos that used to pre-empt replays and commercial breaks] were GoPro, Nike, and Monster. Now it's Rumble, Cariuma, and A SHOC. What a fall from grace."
---
"It's time to break free." Reads the tagline from the Rumble commercials that aired during SLS's debut event on the platform. Break free from what? Content moderation? Reality? Humanity? As our call neared its end, I expressed to Horowitz how unnerving it is that this is the type of content people will be exposed to while watching a skateboarding contest. How it appears that all it took to make it happen was a stack of cash.
"It is frightening." He said. "It really feels like the wild west."
The place to click and subscribe
It should be noted that Fiume Capital's website is a simple splash page of rotating quotes atop video footage of a running river.

"Alone we can do so little, together we can do so much." Reads a quote attributed to Helen Keller on the official website of a private equity firm.
---
Simple Magic is a weekly newsletter about skateboarding, the internet, and other means of escape. It's written by Cole Nowicki and comes out every Friday. Sometimes on Wednesday. Pretty sure there was a Monday post one time, too. Be sure to click on the following link to subscribe: https://simplemagic.substack.com/
---
If you are not yet a BRA Retail Member, you can easily opt in to either Regular (no cost) or Distinguished ($100/yr.) Membership via this super simple join form